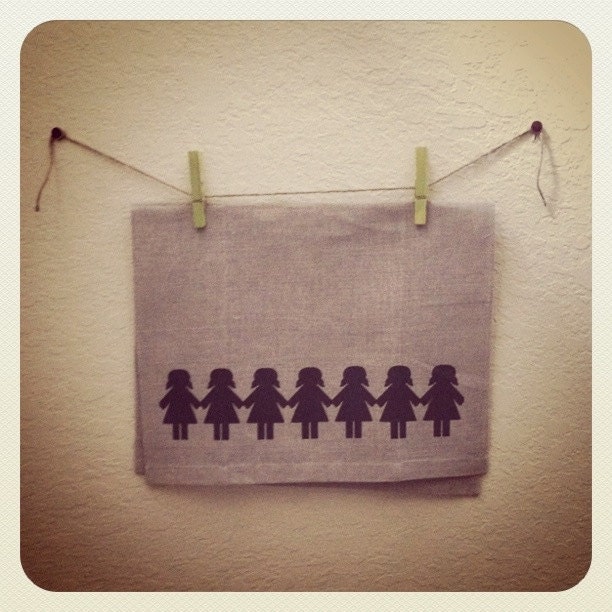 Paper Chain Doll Flax Linen Tea Towel by Weather & Noise via etsy
A number of weeks back I shared about our new, wonderful dishwasher and the lovely Kendelle commented with this:
"If the only question is that of the environmental impact of the machine itself at the end of it's life, perhaps now is the time to start thinking about how we can recycle/upcycle these cumbersome household appliances. Is there already an answer to this?"
Thanks for the question Kendelle! As promised, I've looked into your question (apologies for the delay) and here's what I've found:
Short answer? YES.
Long answer? YES, but you have to work for it. With my superior IT skills (Googling "recycling dishwashers in SA") I found a few links to recycling e-waste pretty quickly, however the definition of e-waste on many websites was limited to TV's, phones and computers. That said, I did find a few in my local area (South of Adelaide) that do recycle fridges, dishwashers etc.
Hints:
When a new appliance is delivered, ask if the company is able to remove the appliance being replaced AND what they do with the appliance. If you aren't happy with the method, research alternative options before delivery.

Better yet, research your options before purchase!

Better even than THAT, find out if your appliance is able to be fixed before replacing it. We had ours fixed three times before our plumber told us it wasn't worth doing again! It bought us time and got the most out of the machine.

Check out your local council website. This was by far the easiest way to find out what local services existed and the most ethical services possible.
Here is
a fantastic article on the Technology Industry Association Website that's worth reading.
Kate xx